Thoma Gaqi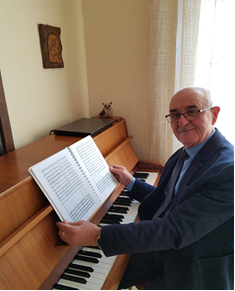 Born in 1948, Thoma Gaqi is one of the most influential living Albanian composers.
He began his violin and music theory studies in Korça, then continuing at the Jordan Misja Arts High School in Tirana. He studied composition with Çesc Zadeja at the Tirana Conservatory (1966 – 1972), where he later joined the ranks of the faculty as professor of harmony in 1972.
After serving as artistic director of the Tirana Theatre of Opera and Ballet from 1979 to 1983, he returned to the Academy of Arts (formerly Tirana Conservatory) as professor of harmony and composition, becoming head of the composition department in 1988.
In 1992 he moved to Korça to become director of the Tefta Tashko Koço music school. He returned to the Tirana Academy of Arts to teach composition in 1996.
Thoma Gaqi has composed many instrumental and symphonic works, for which he received various prizes throughout his career. Among Gaqi's works are some of the most popular Albanian compositions of the last century, many of which have been performed abroad, including in the U.S.A., Canada, France, Greece, Turkey, Switzerland, Romania, Italy, North Macedonia, Russia, Germany, United Kingdom etc…
In 1984 he was recognized as a Merited Artist of Albania.
In 2018 the University of Arts in Tirana awarded him the title of Emeritus Professor, for his outstanding contributions during his teaching career.